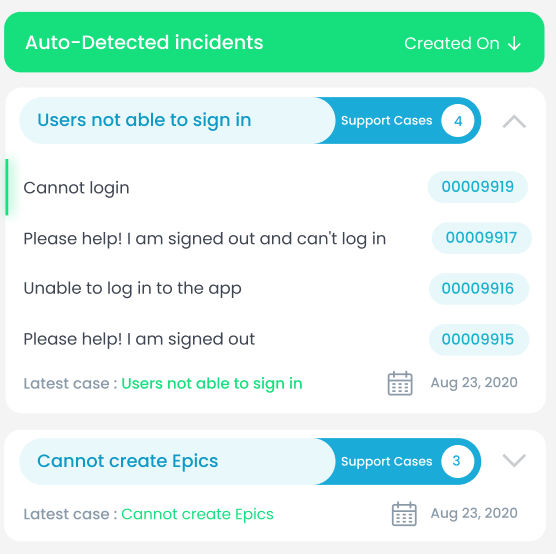 Discover top issues impacting customers
It is often difficult for support managers to know core reasons why support tickets come in. The reasons keep changing as does the product functionality, making it difficult to have full visibility into support issues.
IrisAgent's AI pinpoints which product changes or bugs caused support tickets. Discover product issues from anomalies in customer support tickets. Find top issues impacting many customers.
LET'S CHAT →
Find root cause of support tickets and take swift action
Don't spend hours manually analyzing logs, alerts and product bugs to find the needle in the haystack.
IrisAgent discovers the root cause of new support tickets automatically from the internal signals. Link support tickets to product bugs and save valuable time.
TRY FOR FREE →
Tag tickets automatically and route based on expertise
Don't spend hours manually analyzing and tagging customer queries. Manual tagging has challenges - low compliance in support agents, incorrect tags, overlapping and poorly defined tags, among others.
Using advanced machine learning, IrisAgent automates tagging and helps gain visibility into support tickets. It also routes every new ticket to the right domain expert in your team for the best customer experience.
TRY FOR FREE →
How IrisAgent transforms your customer support
Lower response time
Suggested solutions to resolve tickets quickly. Give your customers the ability to troubleshoot and solve issues on their own.
Improve CSAT
Customers want to feel valued. So when you strive hard to provide proactive support, they will never forget it, and will remain loyal.
Decrease ticket volume
Provide solutions to customers where they are. You won't have to go through tons of customer issues anymore.
Supercharge your support operations today
Get on top of product issues and effectively resolve customer support tickets, instead of reactively learning about them
SIGN UP
Features we support
Respond to incidents & outages
IrisAgent highlights if a particular case is caused by an ongoing outage on case page.
Early warning engine
Find top issues impacting customers from anomalies in support tickets.
Tagging of cases
Using ML, IrisAgent discovers and applies tags for cases customized to your industry.
Learn from similar tickets
IrisAgent detects older cases with similar reason to reduce MTTR.
Knowledge base search
Using machine learning, IrisAgent suggests the best matching articles from knowledge base.
Sentiment Analysis
Discover nuances in customer language to guage their experience with the service.
Get Started
Get Started
Connect to your existing support platforms in just a few minutes
Contact
Contact
Enter your contact details. We will reach out to get you started with IrisAgent.
Location:
1049 El Monte Avenue, Ste C #516. Mountain View, CA 94040
Email:
contact@irisagent.com