Boost your agent productivity
Products and customer issues keep changing. Align your support team on the need-to-knows to reduce resolution times.
Context switching costs time and money
Boost agent productivity with our auto-responder, case deflection and recommended resolution capabilities
GET AI-POWERED SUPPORT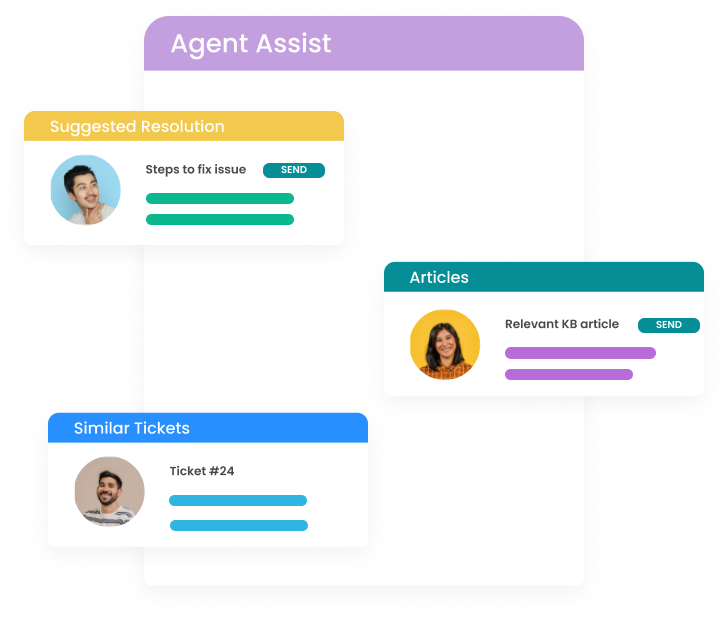 Let AI resolve common tickets
IrisAgent provides recommended resolution from knowledge base and past similar tickets right at the fingertips. Enable your team to provide lightning fast support.
Bring product and customer context to your agents
Get to know customers' business priorities and usage history to better-empathize with their experiences. Leverage internal operational and product signals to instantly discover the source of user issues and link them with known product bugs in Jira.
Automated and accurate tagging
IrisAgent discovers tags customized to your domain and automatically tags new tickets. Get rid of manual and inaccurate tagging for good.
Create a rockstar support team using the power of AI
Faster response time
Resolve tickets quickly with IrisAgent's suggested solutions. Give your customers the ability to solve issues on their own.
Improve CSAT
Customers don't just want to feel valued. They want you to make their lives easier. Proactive support generates loyalty.
Decrease ticket volume
Solve your customers' problems where they are. Free up your support and engineering teams to focus on what really matters.
Supercharge your support operations today
FREE TRIAL
Get Started
Make it easy for your support team to be successful. We're integrated with support platforms you know and love to avoid context switches and provide your agents with actionable insights to speed up time to resolution.