Solve 40% of support queries

with IrisGPT Chatbot and Agent Assist

Enterprise-grade Generative AI trained securely on
your articles and tickets to deflect user queries and
assist agents

Enterprise-grade Generative AI trained securely on
your articles and tickets to deflect user queries and
assist agents

Try

IrisGPT

on your own data for free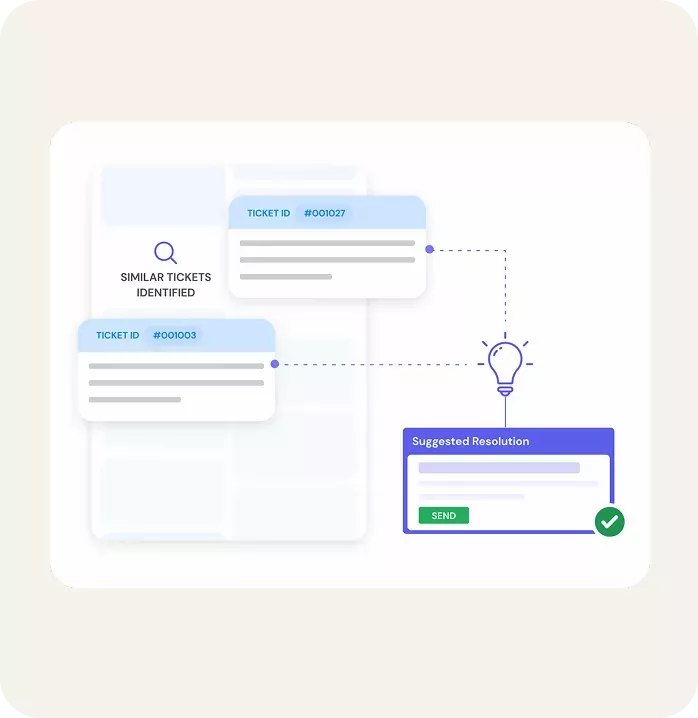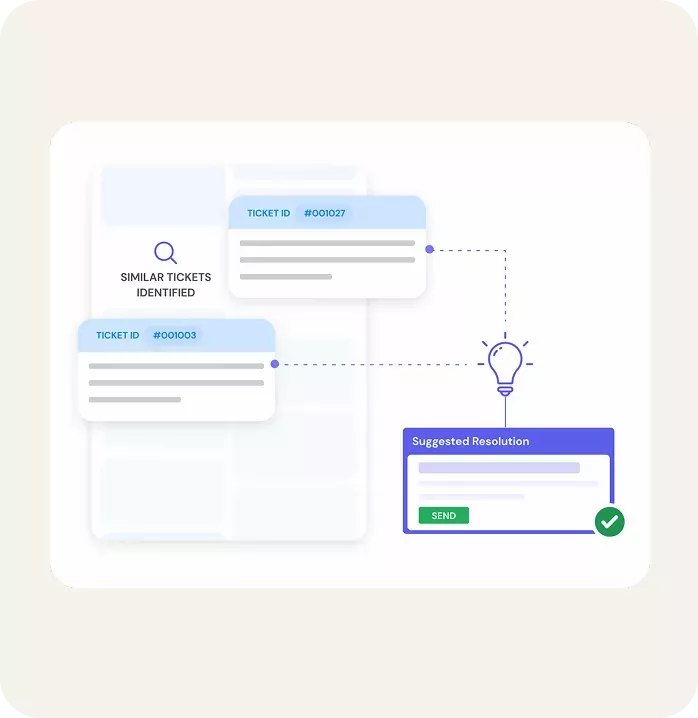 Resolve common
issues quickly with AI
IrisGPT provides recommended resolution from knowledge base and past tickets right at the fingertips. Enable your team to provide lightning fast support.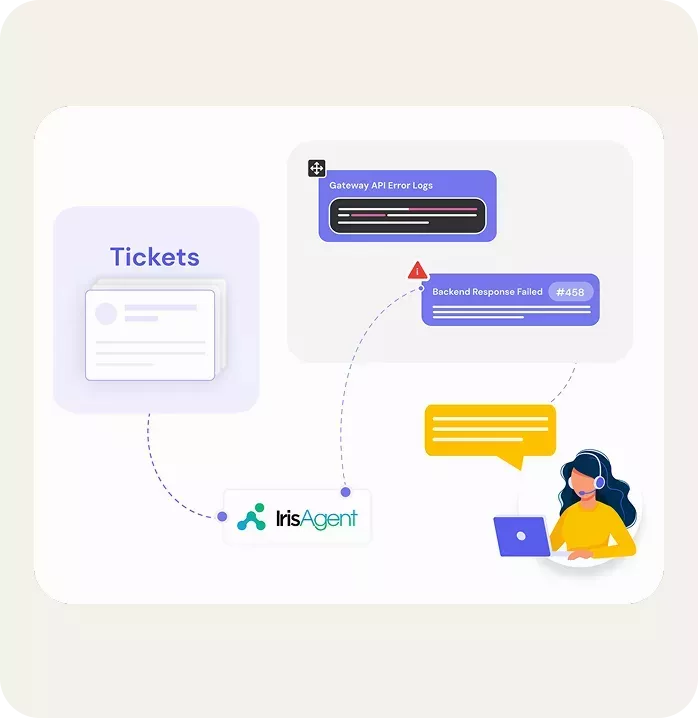 Highly accurate multilingual answers with citations
Highly accurate multilingual
answers with citations
Trained on the world's largest large language models, IrisGPT is the first multilingual and highly accurate answering engine that is trustworthy and will delight your customers.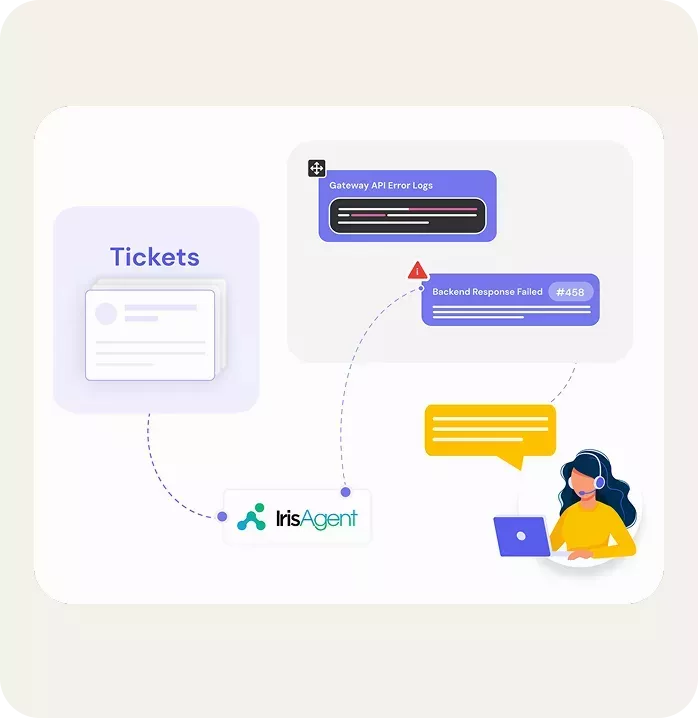 Omni-channel ticket responder and chatbot that works out of the box
Omni-channel ticket responder and chatbot that works out of the box
With omni-channel support, use IrisGPT within your help desk as an auto-responder, internal agent assist, or a standalone bot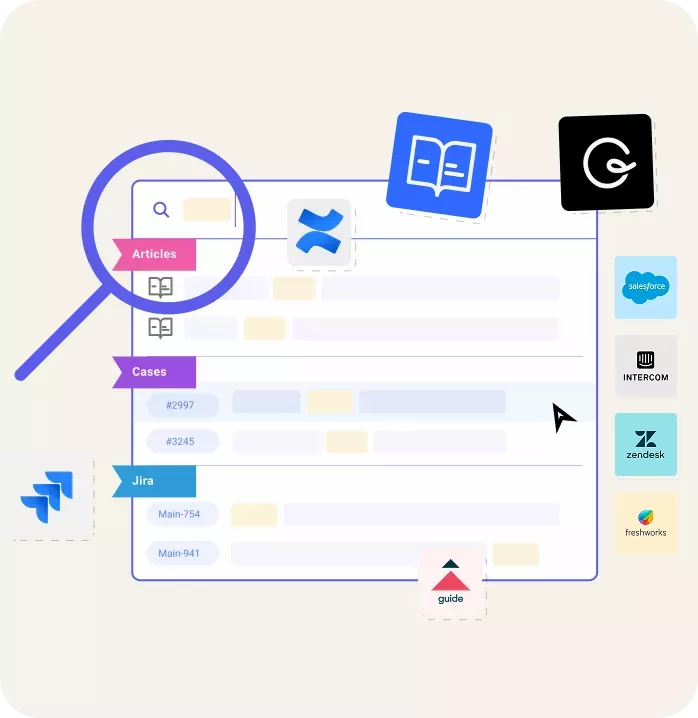 Start deflecting more than 35% tickets within a matter of days
Your reliable GPT Bot to be your team's co-pilot during off hours and help train new agents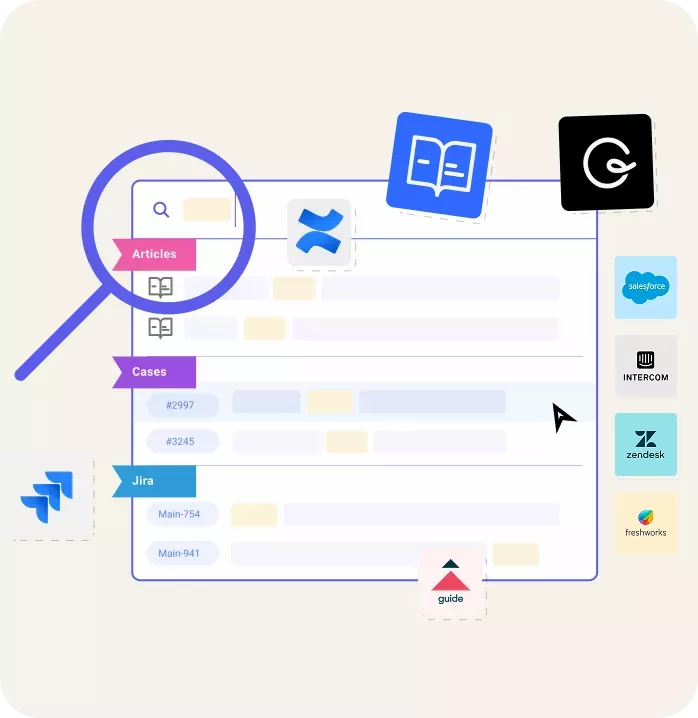 Customer Testimonials
IrisAgent has hit the bull's eye by infusing the power of AI in the customer support function to take it to a whole new spectrum at scale. Automatic tagging of tickets, sentiment analysis, IrisGPT, etc., are some of its propriety tools that can unlock the new potential of the support functions and add value to the customers and parallelly improving its operational efficiencies by heaps and bounds.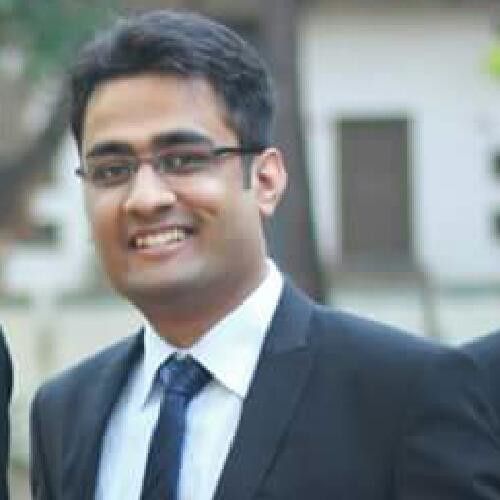 Our support agents have been happy with IrisAgent's impact on their daily work. They've been especially impressed with the platform's ability to automate tagging —an area our support team was especially eager to improve—and I value the added insight into our customer's overall health IrisAgent provides.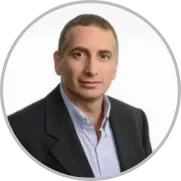 IrisAgent helped us get started on the AI journey by automating many mundane tasks of our support team and improving their productivity. We automated tagging for multiple fields right off the gate, then proceeded to automate ticket routing and AI-powered Agent Assist. Using IrisAgent's integrations, we also got visibility into our escalations and customer health signals proactively.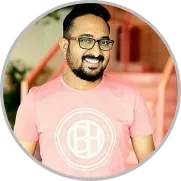 We struggled in the past with tagging. Some of the issues we faced were based on human error - several agents were tagging the same conversation and would not always use the same tag. This then in turn, leads to the tag bloat. For us tagging is important for product insight, but also for identifying the topics we spent most time on and trying to either apply some proactive support/deflection measure for these topics. In the end, we started using IrisAgent to automatically tag our conversations. We've found this really beneficial and our product team loves it too. @supportdriven slack channel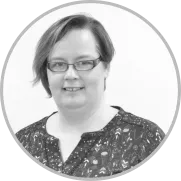 Transform your customer
support operations
Any questions?
We got you.
Agent Assist AI, is programmed to work efficiently in understanding and processing customer inquiries in real time. It uses natural language processing and machine learning algorithms to interpret the customer's issues and provide them with immediate, accurate responses. The core of an Agent Assist Chatbot is to make the process of problem-solving simpler and faster for the support team, thereby enhancing the customer service experience. The Agent Assist Bot operates in collaboration with the human support team. It provides real-time suggestions to the agents during the conversation with the customers. These can range from suggesting responses, providing relevant articles, or directing the chat to a human agent when the bot can't process the complexity of the query.
The primary role of an Agent Assist AI is to facilitate various tasks that primarily include helping customer service agents by providing them with real-time assistance. The AI Agent Assist can quickly fetch relevant information, reply to customer queries, resolve complaints, troubleshoot, manage multiple customer interactions, and even predict customer needs based on historically collected data. This immensely reduces the response time to solve a customer's problem and enhances the customer's experience. Another noteworthy task handled by Agent Assist Chatbots is their ability to learn and adapt. With each interaction, the chatbot can learn and improve its responses, making it more efficient with time. Support Agent Assist not only enhances the productivity of the customer service team but also significantly improves the overall customer interaction.
AI Agent Assist is a revolutionary technology that significantly improves the quality of customer service. By using machine learning and natural language processing techniques, the Agent Assist AI can understand customer queries and provide quick, accurate responses. It augments the capabilities of human agents by providing them with instant information and recommended responses, thereby reducing response times and increasing customer satisfaction. The Agent Assist Chatbot can handle multiple customer interactions simultaneously, ensuring that all customers receive prompt attention. With the potential to operate 24/7, these bots enhance the availability and reach of your customer service. Moreover, an Agent Assist Bot keeps learning from every interaction, thereby continually improving its problem-solving capabilities. Support Agent Assist is another transformative offering in this space. It aids customer support representatives by providing relevant information during live interactions.
Our AI Agent Assist is designed for easy and quick implementation. The exact timeline may vary based on the complexity of your needs and individual business processes. However, most implementations of Agent Assist AI can be completed within days. This includes setting up, integrating, and training the AI with your specific data and requirements.  An Agent Assist chatbot does not require any coding or technical expertise for installation. Our team will guide you through the process, ensuring the Support Agent Assist is fully functional and practical for your organization's needs. 
When it comes to accelerating agent onboarding, agent assist chatbots can be a game changer. It utilizes artificial intelligence to guide new agents through complex processes, helping them to become proficient faster. The agent assist AI provides real-time instruction, ensuring immediate support and preventing costly mistakes. It also functions as an ever-present mentor, enabling new agents to quickly become confident and capable. An agent assist chatbot takes things a step further by providing 24/7 assistance. New agents can interact with the chatbot as if it were a human mentor, asking questions and receiving immediate, accurate responses. Meanwhile, an agent assist bot can help by automating routine tasks, allowing agents to focus on more complex aspects of their role. The combination of these AI tools not only accelerates onboarding but also enhances the overall support agent assist experience.